PRODUCT PARAMETERS
Insulation Reducer
No.
Norminal diameter DNXDN(mm)
L(mm)
1
50x40
1080
2
70x50
1080
3
80x(50~70)
1100~1090
4
100x(50, 70, 80)
1080, 1090, 1100
5
125x(70~100)
1100
6
150x(80~125)
1190
7
250x(100~200)
1190~1300
8
300x(125~300)
1250~1450
9
350x(150~300)
1250~1500
10
400x(200~350)
1250~1550
11
450x(250~400)
1250~1550
12
500x(300~450)
1250~1550
13
600x(350~500)
1250~1550
14
700x(400~600)
1450~1750
15
800x(450~700)
1450~1850
16
900x(500~800)
1550~2050
17
1000x(600~900)
1550~2150
18
1200x(700~1000)
1550~2150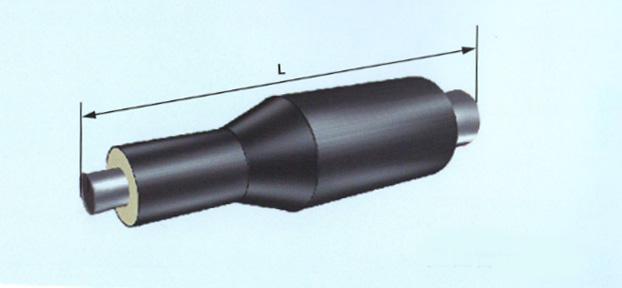 PRODUCT FEATURES
Polyurethane insulation pipe (black jacket insulation pipe, polyurethane insulation pipe and its connecting parts, including insulation tee, insulation reducer, insulation elbow, insulation bend pipe, insulation fixed joints, etc.) is suitable for urban heating, electric heating, water transmission and insulation, oil pipeline, plumbing pipe, air conditioning pipe, electric power pipe, thermal pipe...Pipeline insulation buried in the project is widely used. It has many advantages, such as environmental protection and energy saving, anti-corrosion and heat preservation, anti-freezing and cold resistance, economy and beauty, and reducing heat loss.
Prefabricated buried insulation pipe is mainly composed of Three parts. (1) working steel pipes: according to the technical requirements of the conveying medium, slit steel pipes, seamless steel pipes and double-sided submerged arc spiral welded steel pipes are adopted respectively. (2) insulation layer: rigid polyurethane foam is used. (3) protective shell: use high-density polyethylene or glass fiber reinforced plastics. 
TECHNICAL INDICATORS
Product Indexes
Reference Standard
Standard Requirement
Our product value
Outer protection pipe
Density (kg/m3 )
CJ/T114-4.2.3.1
≥940
948.2
Elongation at break (%)
CJ/T114-4.2.3.4
≥350
618
Tensile yield strength (MPa)
CJ/T114-4.2.3.4
≥19
20.5
Longitudinal shrinkage rate (%)
CJ/T114-4.2.3.5
≤3
1.23
Long term Mechanical properties
CJ/T114-4.2.3.6
>1500h(80℃, 4.0 MPa)free from damage
Pass
The difference of the melt flow rate (g/10min)
CJ/T114-4.2.3.2
≤0.5
0.11
Carbon Black Content %
CJ/T114-4.2.3.1
2.5±0.5
2.4
Polyurethane insulation layer
Density (kg/m³)
CJ/T114-4.3.2
≥60
71.1
Average pore size (mm)
CJ/T114-4.3.1
≤0.5
qualified
Percentage of close area(%)
CJ/T114-4.3.1
≥88
94
Compressive strength(MPa)
CJ/T114-4.3.3
≥0.3
0.58
Water absorption(%)
CJ/T114-4.3.4
Immersion in boiling water 90 minutes, bubble water absorption should be not more than 10%
≤5.53
Working steel pipe
Seamless steel pipe(≤DN150)
GB8163
20#
qualified
Spiral steel pipe(≥DN200)
GB/T9711 or SY/T5037
Q235B
qualified
FAQ
FAQ
1. Are you a manufacturer or a trading company?
We are a manufacturer which has 30 years' history.
2. Can you accept OEM or ODM?
Of course, Logo is also acceptable.
3. What is the delivery time?
About 10-20 days after the contract signing.
4. What is your payment methods?
T/T L/C Paypal West Union and others .
5. Where is your manufacturer? How to visit it?
Our factory located in Binhai New Area, Tianjin, China. Mainly producing pre-insulated pipes, mineral wool insulation products and other insulating materials. You can take a plane to Beijing or Tianjin, then take a train to our company.
6. How do we control our products' quality?
We have professional quality control workers and quality inspection machine to control the entire production quality. We can also provide an inspection which was offered by a third party.   
7. Can I customize some other sizes of products?
Yes! We can according to the customer's request. If you have any other questions, please don't hesitate, contact us.
SERVICE
SERVICE
1. Timely response: to your inquiry in 24 hours, quickly respond mails and provide solutions.
2. Free sample: Sample and trial order are accepted for the quality evaluation.
3. Shorter delivery time: Book the earliest vessel or plane to guarantee the delivery time.
4. Professional Services: Provide high or cold temperature solutions and professionals installation and technology services for you.